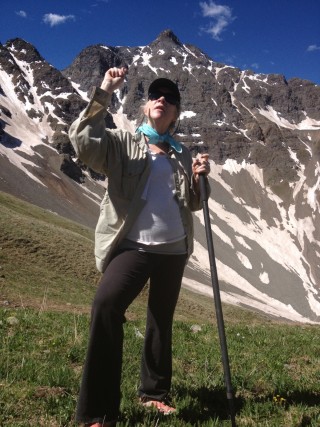 Artist Statement-Velocity in Montanya
Every painting at Montanya is of Velocity Basin–different view points, times of day and seasons. All of the paintings say something about the qualities of paint and also the feeling and look of Velocity, though to different degrees. Some paintings are more abstract while others are more faithful to features of nature. As I was working on these Velocity paintings, I would periodically visit Montanya for social gatherings and I noticed the beautiful spaces, with empty walls. I considered the people who come to Montanya, like Silverton Mountain skiers and others who have had such deep experiences in Velocity.  I loved the word "Montanya," and that it is the Spanish word for mountain.  I thought, "What a perfect fit." It seems that everyone has a story about Velocity, beginning long before the Olympic Gold Metal winner, Shaun White's "secret half pipe," was built in the south end of Velocity Basin. Besides being the inspiration for these paintings, Velocity is the place where my friend Claudia Pope and I had our dangerous encounter with the Akbash, the ancient breed of Turkish sheep guard dogs. The events of this encounter unfolded as I was putting in a camp above the lake, for the purpose of beginning this series. (I live in and wake up in the places I paint. To that end I backpack and also pack my dogs in the wilderness of Southwestern Colorado.) I am collecting stories about Velocity. If you would like to share your Velocity Basin experience, please email me at jg.wingatebnb@gmail.com.
Judith Graham
Silverton, 2012

Map of Velocity Basin
(also known as Colorado Basin)
I love the above Googe Map/Googe Earth for all the different ways one can experience Velocity Basin (Colorado Basin). This Shaun White video also gives yet another distinctive experience of the power of place and the power of the particular place which is Velocity. This place is not a backdrop or setting for human events; it has its own spirit which inspires human experience, rites of passage, relationships, etc. The spirit of this place is palpable.